This Philly printmaker's hand-drawn shirts are kind of like Ed Hardy, except cool as hell
This is HARD TO GET, a weekly newsletter about awesome stuff that's (almost) impossible to find online.  
At HARD TO GET it's safe to say we fux heavy with hand-drawn clothing, to the extent that sometimes we clear off the crafting table at H.T.G. Headquarters and make it ourselves: Last fall, inspired by the long-since sold-out collaborations between Vans and Creative Growth, we had some fun scribbling over some old Sk8-Hi's with jungle scenery. 

So we were stoked when we caught wind of James Joseph Rich, Jr., a 25-year-old artist who sells custom hand-drawn pieces from his home in Philadelphia. "I do most of my work out of my bedroom in my apartment," he tells us. "I lay out the garments on the ground for more space."   
"I've only been doing one-off custom clothing since August of 2019," Rich says. "I got into it because of its accessibility: I have a degree in printmaking from Tyler School of Art at Temple, but because access to printing presses is hard to find and often expensive I had to resort to making work with tools more readily available." 
Say you want a unique jawn with a beautiful, faintly eerie pagan-ritual vibe... you could search Grailed in hopes of finding an Online Ceramics x Midsommar tee, or you could contact Rich for a one-of-one piece like the hoodie above.  


"Right now my biggest influence would be American folk art/outsider art, specifically quilt design and fiber art," he explains. 

"Another big influence is American traditional tattoo, which often deals with the same themes and motifs." Scouring Philly-area flea markets, "I collect anything that resembles tattoo iconography, like Betty Boop figurines, Kewpie dolls, religious imagery, etc. I also go to thrift stores searching for old books on quilts, folk art, and embroidery." 
The result of Rich's tattoo influence on this longsleeve tee is kind of like Ed Hardy except instead of wack it's popping. And his sourcing is sustainable in the least-buzzy sense of the word: "I work at a screen-printing company and they often have leftover garments up for grabs. I stock up any chance I get."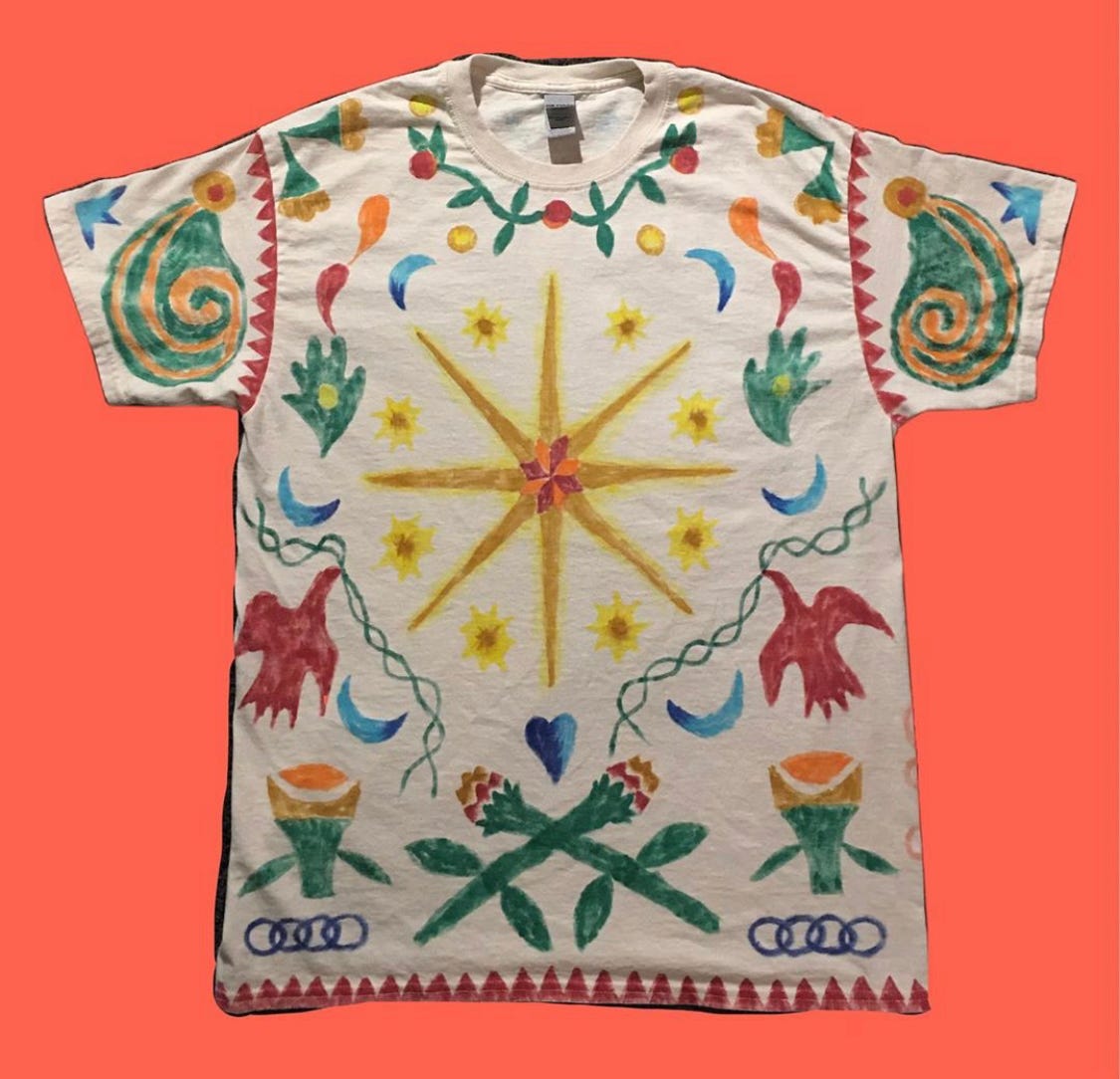 Rich also draws on totebags, paints on pants and makes visual art -- you can see his stuff, and commission something of your own, through his Instagram page. 

"I've been pricing them at $50 for tee shirts, $70 for long-sleeves, and $100 for sweatshirts," he says. "All depending on what I'm using to make the images, and how involved the designs are. I can finish an order with in a week, from the day the order's placed to it being finished and shipped, so my turnaround is pretty quick."

Hit him up, because yes, those H.T.G. Vans up top are fire, but they're not for sale ;-)