This guy made the perfect baseball cap and there's one (1) left on earth
Troy O'Shea hand-makes beautiful hats from rare fabrics in ridiculously small runs
This is HARD TO GET, a weekly newsletter about awesome stuff that's (almost) impossible to find online.  
Last year, Sydney-based cap-maker Troy O'Shea fed a "very small piece of vintage Japanese indigo-dyed sashiko fabric" through a pre-1940-era sewing machine in his living room. 

It was enough material to make just 1 extremely beautiful cap, size medium, pictured here. He posted it for sale on his website and now it's long gone. 
Similar story: O'Shea -- who runs the microlabel Troy O'Shea Handmade with his wife Mari -- got his hands on some swathes of soft Dormeuil cotton corduroy. It was enough to make 4 caps total... he put them up for sale as Instagram loosies and they're gone now, too. 

"Gone now" is a big theme in today's post, which truly lives up to the hard-to-get ethos: the beautiful babies on display here are available in tantalizingly limited quantities, if not, at this point, straight-up UNCOPPABLE. 
Here's a shot of O'Shea at work. He's wearing one of his own painstakingly period-accurate reproduction baseball caps (several of which *are* currently available) while making a small run of recycled Patagonia Spoonbill caps cut from old H2NO rain shells. 

The only way to get one of the Spoonbills is by hitting up Patagonia's Sydney store and hoping someone who works there is kind enough to bless you with a trans-hemispheric phone-order. 
OK, this is the perfect baseball cap. Visually distinct but super subtle, hits the right balance between structured and floppy, guaranteed to look better and better with time. 

Shown here in indigo and charcoal, O'Shea made these from "selvedge Japanese Sashi-oro fabric," he says, explaining that this "is traditionally used for kendo and judo wears" and "will age beautifully." 

As of right this second there is 1 (!) of these caps available for sale on the planet, size large, in brown. All the others sold out. Link below.  
We caught wind of O'Shea through Osaka-based H.T.G. homey Jonathan Lucacek, whom we interviewed last year when he launched a very cool bandanna collaboration with Okayama denim lords Ooe Yofuketen. 

Lucacek recently worked with O'Shea to make a limited run of caps "made using all Alberton Cotton Duck," "woven on vintage shuttle looms only for Alberton canvas in Japan, 15oz bio washed for the shell and a 25oz raw undyed duck for the brim" -- which all sounds good as hell even if we only half understand it.

Available in green and orange, these ... are still coppable.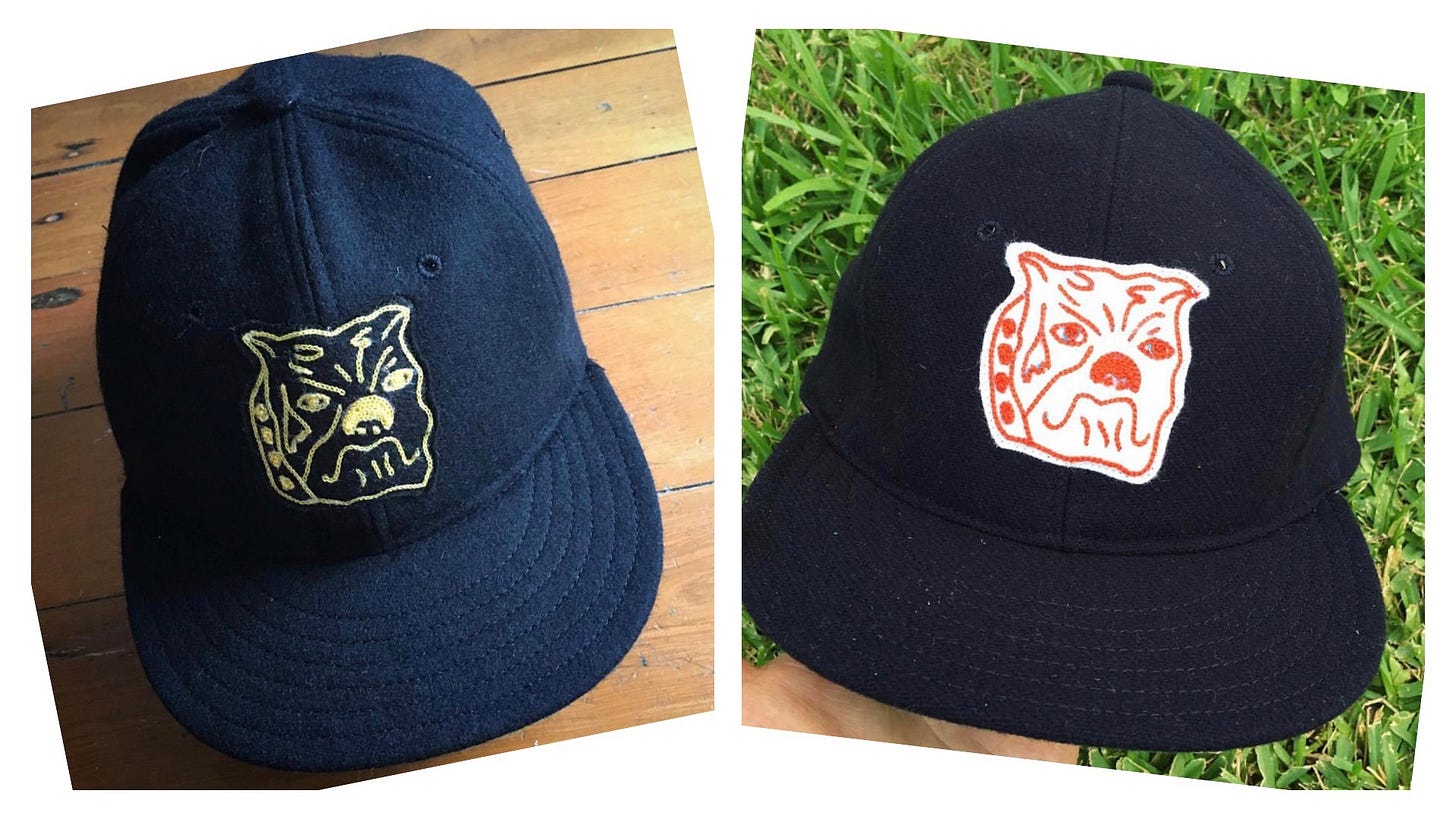 Made from U.S.-milled navy wool flannel and a very charming bulldog chainstitched felt patch, the one-of-one cap on the left *might* still be available (ask O'Shea) but the one on the right is 100% someone else's property 'cause they COPPETHED it while you were busy SLEEPING ; )

So stop sleeping!

-Troy O'Shea Handmade's web store is here.
-His Instagram, where he sometimes posts loosies, is here.  
-The Alberton Duck Canvas hats are here. 
-The one remaining Sashi-oro cap is here.