This Guy Gets High on DMT and Makes Amazing Ninja Turtle Paintings (We Want One)
Other motifs include happy aliens, trippy jungles, Mickey Mouse, and Jordan IVs
This is HARD TO GET, a weekly newsletter about awesome stuff that's (almost) impossible to find online.
This painting of stoned-looking Teenage Mutant Ninja Turtles chowing down on mushroom pizza was made by San Francisco outsider artist Joe Roberts, a.k.a. LSD World Peace. True to that nickname, Roberts likes to trip on hallucinogens, such as homemade (!) DMT, and then capture the visions that wash over him. 

This particular vision is on the wall at Raymond's Pizzeria, an excellent new joint in the Bay Area city of Richmond that was opened by veteran pro-skater Brad Staba. (Tip: Go to Raymond's!) Note unlikely details such as the Air Jordan IVs on Raphael and the UFOs hovering in the window. Roberts's work is best-known in the skating community, and over the years his art has appeared in skate videos, on boards, and on apparel for Thrasher and Supreme: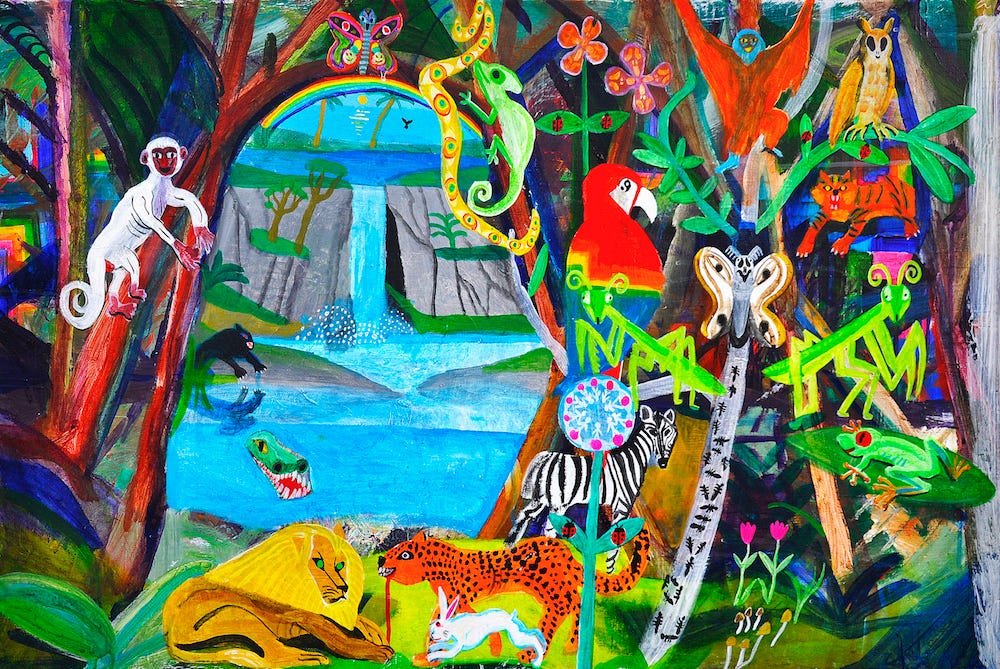 Interested in finding one of Roberts's extremely wavy paintings for ourselves, with their mix of head-shop iconography, pop-culture references, and nature scenes, we started to poke around. 

Roberts's last gallery show in the Bay happened in 2018, but that gallery didn't respond to a recent email. Roberts is active on Instagram and has recently been on a tear posting new work, such as this one of Leonardo doing a kickflip over a fire hydrant, in a motion study à la Muybridge... 
... but when a friend with ties to the local skater community DM'd Roberts asking about buying work, he got no response either. Here's what we have found:

-A delightful video interview and studio-visit with Roberts here.
 
-His book 61)A3HT3TA3W (We Ate the Acid), which is fantastic and available for $35 at booksellers like Powell's in a limited pressing. (Always support indies!) 

-He's selling an even-more-limited $44 print of a Ninja Turtle committing seppuku on acid-tab-style blotter paper (the edition of 71 "contains no drugs and is sold and intended as art," the description clarifies.)

-And you can buy Roberts's apparel for Thrasher and Supreme at resellers like Grailed, eBay and StockX. 

In the meantime, our mushroom-style foraging expedition for a Joe Roberts original continues...