This Dude in Osaka Got So Obsessed With an 1880s Bandanna, He Spent a Decade Figuring Out How to Remake It
Based on a one-of-a-kind vintage prototype, loomed and hand-printed in Japan, the "Hermès of bandannas" is available in limited supply
This is HARD TO GET, a weekly newsletter about awesome stuff that's (almost) impossible to find online.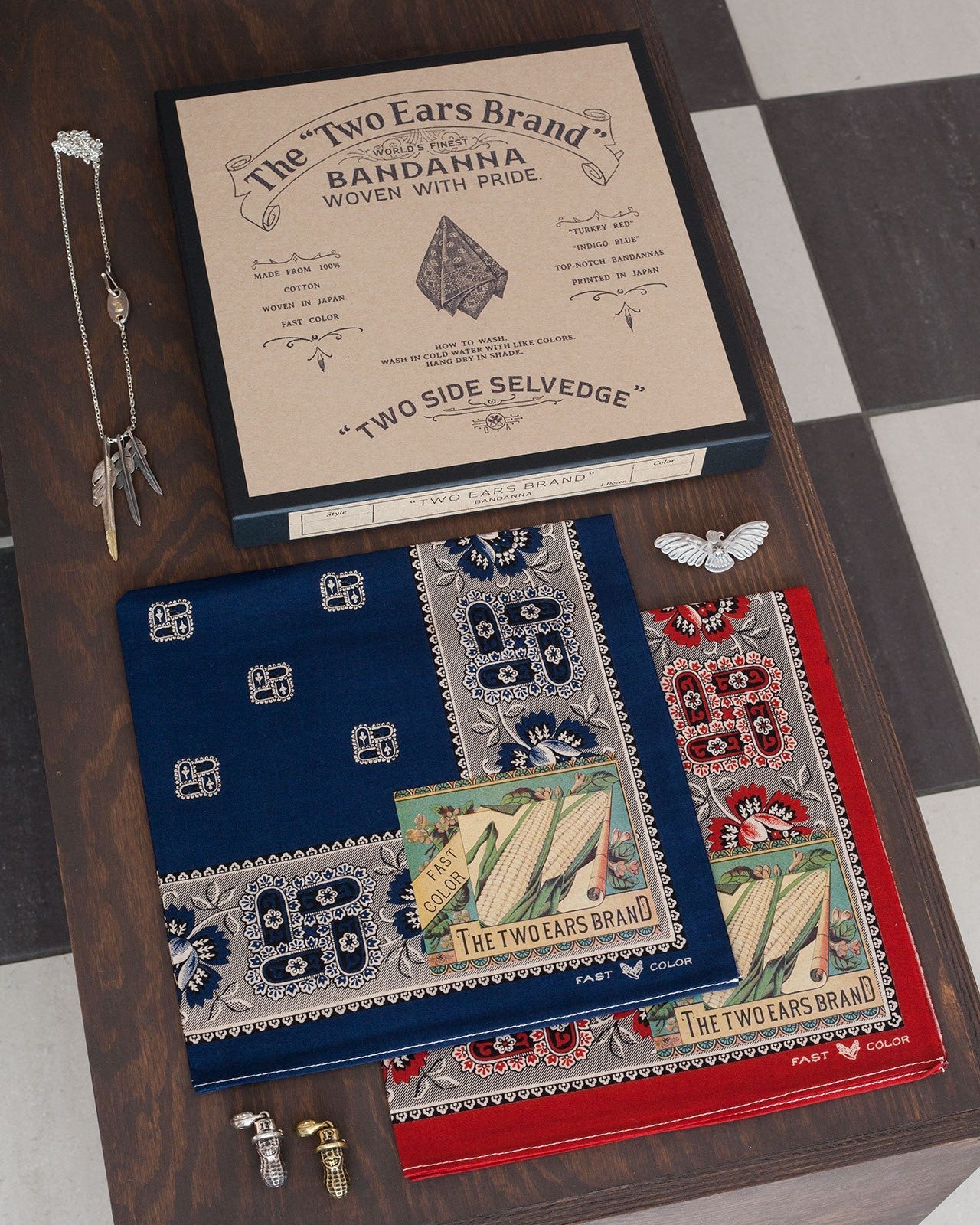 It's fair to call Osaka-based designer, stylist, and fashion archivist Jonathan Lukacek a bandanna obsessive. He keeps a fascinating blog (and Instagram account) called Bandanna Almanac, and over the years he's researched and collected hundreds of 19th- and 20th-century specimens, learning about how each one was made, packaged, sold, and worn. When Kiro Hirata — lead designer for Kapital and generally revered Japanese denim god — decided to create a museum for his own bandanna collection, Lukacek helped curate it. (Noted Japanese-apparel-fiend John Mayer is another of Lukacek's pals.) 
About a decade ago, Lukacek found a never-produced 1880s-era prototype bandanna that blew him away — it had a notably tight weave and a distinctive, squared-paisley design. He fantasized about reproducing it at the highest level possible, as a two-side selvedge bandana. "I wanted to do it like a luxury bandanna — something accurate and perfectly made that would be incredibly hard to imitate," Lukacek tells us. The tricky part was locating a mill with the right kind of specialized narrow looms needed to make such a fabric — archaic equipment, to put it mildly. 
The complete collection of American political bandannas and textiles. Can't rightly call yourself a collector if you don't have this one. Finally got a complete non-library copy in pristine condition.
Last year, he got a tip from an industry connection: "He had a look at the prototype and said, 'I know where you can get this made.' We went there, they made fabric samples for us, and it turned out to be exactly what we needed." And so finally, this year, Lucacek partnered with cult denim-brand Ooe Yofukuten on a limited run. A husband-and-wife operation, Ooe specialize in high-end jeans and routinely make their own fabrics from scratch, but for the bandanna project they handled everything after the fabric-production stage. Lucacek and Ooe named their collaboration Two Ears Brand — a pun on the Japanese word for selvedge, "mimi," which also happens to mean ear. 
The first result of that collaboration is the "Marvel" bandanna, which has a linen-like softness, and which Lukacek playfully likens to the "Hermès of bandannas." Its design, available in indigo and "turkey red," features a minimalist paisley-block print in the interior field and an outer band buzzing with botanical motifs. One benefit to the time-consuming production process, Lukacek notes, is that "there's no waste involved in our stuff. With two-side selvedge we don't cut it. There's no scraps." 

The initial run, priced around $50, sold out at Oakland heritage-menswear mecca Standard & Strange in under a week. It's since been restocked, and Stockholm's Pancho & Lefty  has them for sale online along with the Two Ears site.

Last week, Two Ears released a second bandanna, the "Liberty," whose dot-diamond-stripe design is a throwback to old presidential-campaign bandannas: a phenomenon from Jefferson to Eisenhower. (Circa 1780, Martha Washington actually had a souvenir bandanna made depicting her husband, George, on horseback; 1920s-era Labor unions adopted similar bandannas to broadcast solidarity, too, as Lucacek notes at the Two Ears blog.) 

If you want either, move fast: "We produce these in the numbers that we can afford to," Lucacek says, laughing. "The luxury bandana market isn't that big."