This is HARD TO GET, a weekly newsletter about awesome stuff that's (almost) impossible to find online.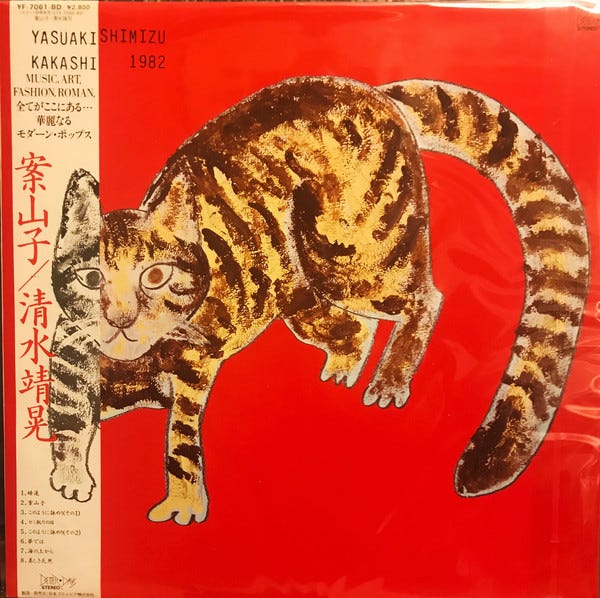 It's a strange time: You're self-isolating, posting mirror-selfie fit pics into the void, living in a failed state, wondering if there is some tranquil, soul-nourishing, under-the-radar ambient music you can play at the crib while you lay low. That's where H.T.G. comes in with a streamable bunker playlist for you -- featuring links to order vinyl if you wanna support small shops and labels, and put your fingertips on some rare objets d'art (besides Purell bottles) in the process. 

Back in January 2019, Vampire Weekend teased two new songs, "Harmony Hall" and "2021." Since V.W. are the homeys and since we have exquisite musical taste, we put both tracks into heavy rotation at H.T.G. headquarters. "2021" was the softer, stranger song of the pair, and we soon learned that V.W.'s Ezra Koenig built it on a sample from idiosyncratic Japanese legend Haruomi Hosono. "This is music that he composed in the '80s to be played in Muji stores," Koenig told an interviewer. Later, Hosono weighed in: "I created it as in-store background music, and it was just a job that I did a long time ago, so I had since forgotten about it." 
We dug up the 15-minute-long source, streaming on YouTube, and it's dope. This discovery launched us into a yearlong hunt for more rare '80s-era Japanese ambient music — a hunt whose targets have expanded to include incredible under-the-radar '80s Minnesotan (!) ambient and contemporary maybe-Belgian (??) ambient, too. 

Here's some of the best stuff we found, all of it obscure, all of it soothing: 

Hiroshi Yoshimura's Music For Nine Postcards (1982), streaming here, is  fantastic all the way through. The first in the "Wave Notation" Japanese-ambient series, it features Eno tones, Satie flavors, and some occasional Angelo Badalamenti Twin Peaks type energies. This one's on Apple music, and it got a recent vinyl reissue, too. 

Also streaming, but harder to find on vinyl, are Yoshimura's nature-sound-filled Green (1986) and A-I-R (1984).

After that, toss on Satoshi Ashikawa's comparably sparse Still Way, here, the second Wave Notation installment. You can chase it with the pulsating polyrhythms of KI-Motion (1981) by Midori Takada's MKWAJU Ensemble. 
This next song, "Shinzo No Tobira" by Mariah, is 1) not ambient, but ambient-adjacent and 2) your new favorite pop groove, guaranteed. 

A clerk at Oakland's Contact Records put us on to Mariah when we came in asking for further Japanese-ambient leads. It's a 1983 project from certified genius Yasuaki Shimizu, whose 1982 solo LP Kakashi is another brilliantly weird must-hear, as is this compilation of wild James Ferraro-style jams Shimizu composed for various Japanese commercials. 
A few months later we took a trip to San Francisco's Stranded Records, which has tons of this stuff, where we got tipped off to Be-2's Minimum Unit of Human Existence, a virtually unknown darkwavey 1983 project by future Studio Ghibli composer Zen Oikawa and his girlfriend Psycho, which you can stream here.
Damn, remember going out? One of our favorite spots to spend time when we're in L.A. is In Sheep's Clothing, a downtown music-nerd oasis modeled on Japanese hi-fi bars, where Music for Nine Postcards is in regular rotation on the turntables along with even rarer treasures. Thanks to the bartender/DJs at ISC we caught wind of: 

Traveller, by Warren Sampson, a little-known Minnesota bedroom-musician who, legend has it, made this stunningly good album in 1987 only to dump it at the landfill, but a copy remained and was reissued. Some tracks have a clear Eno influence, others have a proto-Godspeed You Black Emperor post-rock vibe. Our favorite Sampson song is lush, slightly ominous ambient and it's called "The Coming Darkness." 

And the excellent Modified Perspectives, by Jason Kolàr, who we don't know anything about except that he made this LP in his apartment in 2017 and put it out on a small Belgian label called Stroom in 2018. Our favorite track is "Erratic Texting Behavior," here, and playing it will calm your nerves by a minimum of 87%.

Again, if you enjoy any of the above, consider throwing some bucks to the indie record shops and labels we've linked to. 

Enjoy these warm tunes and stay healthy, kings.