Fire Vintage Fleece Guide: It's Deeper than 'Gonia
How to get off rare self-isolated nature fits, Pt. 2
This is HARD TO GET, a weekly newsletter about awesome stuff that's (almost) impossible to find online.
Fleeces -- yes, they can anchor any 6-foot-radius-respecting nature-fit, but they're also appropriate when yr posting up on the couch w/ the Criterion Channel going hammer ... in other words, they're the perfect garment for H.T.G. to spotlight here in Part 2 of our ongoing quarantine gorp-jawn buyer's guide. (Part 1, last week, was a salute to Mountainsmith's '90s classics.) 

We're not trying to plug just any fleeces. Sandy Liang, Aimé Leon Dore, Patrik Ervell, Kapital ... there's a long list of contemporary designers who have done their damn thing when it comes to the high-piled arts...

...but we are in full-on vintage mindset. And with all due respect to the Ventura gods, we're setting our sights deeper than Patagonia -- a brand whose harder-to-find vintage gems we did a post about last year.

What we're talking about is something like this psychedelic 3/4-zip from Salomon, whose footwear is having a huge moment -- it's such a damn steal at $97 that it took extreme willpower to not cop it ourselves instead of dropping a gem on you, the beautiful H.T.G readership. Available here. 
We fux with these Salomon prints, too, especially the one on the left. Tan one here, $75. Red one here, $38.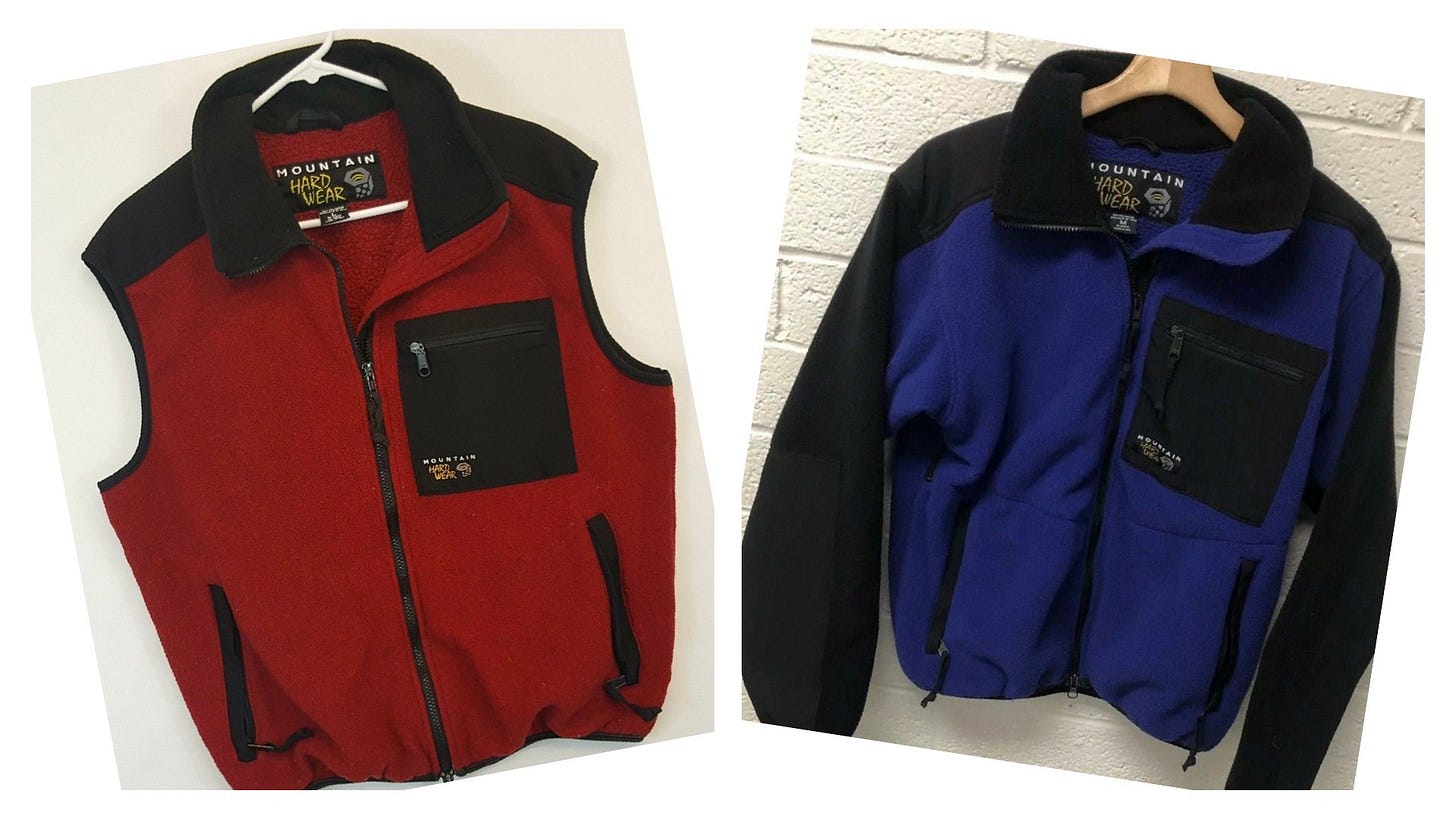 Next up: two 1990s-ed-out Mountain Hardwear joints. We have a big soft spot for these. They're made in the U.S.A and look a lot like North Face Denalis except way less junky in their construction and way less ubiquitous. The fact that their logo is a weird clip-art cartoon of a fastening nut has somehow aged extremely well. 

Red vest, $45, here. Purpleish jacket, $30, here.   
We've admired Germany's Jack Wolfskin, whose name + logo are unfadeable, for decades -- this orange 3/4-zip fleece is a certified eye-popper, and it's just $22. (The seller's in the Ukraine but shipping's only $20 and homey's feedback is popping??) 

Available here. 
Sierra Designs. Respect to the legends. Founded in the East Bay in 1965, they cranked out fire gorp-joints for decades. We might give them a standalone salute before too long, but in the meantime enjoy this two-tone stunner, $32, here. 
Vintage Marmot's a great outdoor option, but we find most of their '90s-era fleeces pretty charmless. That said, their strapback fleece caps are lovely. We found at least two available now, both $30, here and here. 
Also from Marmot's archives: not technically a fleece, but this fleece-lined vintage GORE-TEX (?!) pullover is fantastic. 

$91, available here.  
Gonna put this very plainly: If one of you doesn't come into ownership of this $38 light-purple made-in-U.S.A. Mont-Bell fleece sweatshirt in like ~3-11 days ... then we're coming into ownership of it over here, baby. 

DON'T SLEEP or we will wake you up by dropping a PLUSH PURPLE FIT-PIC ON THE GRAM!!! 
Finally: Same goes for these extremely on-point $81 Manastash fleece-hemp sweats. Cop them, pair them with any of the tops above, and stride hard in a fleece tuxedo across any dirt / mud / mulch / hardwood flooring you might encounter 

... while staying healthy and safely distanced from fellow precious earthlings.