This is HARD TO GET, a weekly newsletter about awesome stuff that's tough to find. 
Facemasks: it's your duty to wrap 'em on when you leave the crib. U can approach this duty in a utilitarian way, or you can approach it with panache like you're Jeanne-Claude and Christo doing a beautiful public-art installation on your own head. 

With option 2 in mind we're launching a new H.T.G. series rounding up DOPE FACE-MOUNTED COVID BARRIERS we come across, starting with a selection of Japanese bandanas. 

Here are video instructions -- courtesy of H.T.G. homey and actual bandana expert Jonathan Lukacek -- on how to fold a bandana into a double-pleated mask, no sewing required (bandit style, it turns out, is much less effective):  
How To - Make a mask from a bandanna, no stitching required.
@two_ears_brand
idea from
@ooe_yofukuten
entire video is on my YouTube. Link in profile. I tried to get Hans Zimmer to do the OST he said he was "busy" so I hired the dude who did Get Smart...
TWO EARS BRAND "Marvel" Bandana, Verte:
Based in Osaka, Jonathan hand-prints beautiful selvedge bandanas in partnership with Ooe Yofuketen under the name Two Ears Brand. They're about to put out their flagship "Marvel" model -- based on a never-produced 1880s prototype -- in a luminous shade of green. $50, preorder here.  

Two Ears' "Liberty" bandana is available in turkey red from Oakland's Standard and Strange, here.

KAPITAL "Ikari Makuri" (Too Angry):
If yr looking at Japanese bandanas (or Japanese joints period) you can't escape Kapital. Philadelphia's Totem is selling the four-eyed smiley-faced one that Bane is rocking up top, here, $43, for those pandemic days when you're feeling your best. But what's more appropriate in these maddening times than hitting the streets (very sparingly) in a bandana that says "Mother Fucking Pissed Off"? The "Ikari Makuri" cat loosely translates to "too angry" -- damn right. 

- Available in red from Ann Arbor's Today Clothing (who have a bunch of nice Kapital bandanas) here, for $37. 

- In navy, at Boulder's Canoe Club, $34. 

- $50 each on eBay in all four colors.


KAPITAL Mikado Max:
An eye-poppingly wavy Kapital option, available in black from Today for $37 here and in green from Canoe Club here, $34. 

THE NORTH FACE Purple Label, Welcome to Yosemite (Bear):
North Face Purple Label is officially available only in Japan, but you can self-import their Welcome to Yosemite bandana via eBay here for $60.


THE NORTH FACE Purple Label, Yosemite map:
We like this TNF Yosemite bandana even more, printed with a map of the valley. Cop it for $60 on eBay.

PALOMA HAYES VALLEY vintage fabric masks:
Using the last of this vintage kasuri fabric for some masks today. Love the labels on this thing. Hoping someday to go back to japan to hunt for some more. If this shit ever gets sorted out that is.
Not technically a bandana, but H.T.G. homey Paloma Hayes Valley, who we interviewed here, has been hand-making masks out of vintage Japanese fabrics. The runs are small and sell out fast -- try to grab one for $20 here. 

SNOW PEAK Nasobi:
Snow Peak makes dope shit, even if they were the go-to camping outfitter of the yuppies in Parasite. Their hand-drawn Nasobi bandana is sold out on the Snow Peak site -- but we found several colors available for $45 each here. 


TAKAHIROMIYASHITA THE SOLOIST. Mickey Mouse:
Mickey vibing out amongst music notes and paisleys, courtesy of former Number (N)ine designer Takahiro Miyashita. Here for $120, which is a steep price for a bandana -- if you feel compelled / able to splash out on this level, consider making a matching donation to a facemask fund like this one, prosperous king. 

MOUNTAIN RESEARCH a.i.t.m. (anarchy in the mountains):
Next up, anarchist-outdoorsy (?!) themed bandanas from Tokyo's Mountain Research for $45 here, and another one in collaboration with Vancouver's Haven, for $43 USD here. We like to eat psychedelics in the great outdoors every now and then and think  anarchic thoughts, so these strike a chord.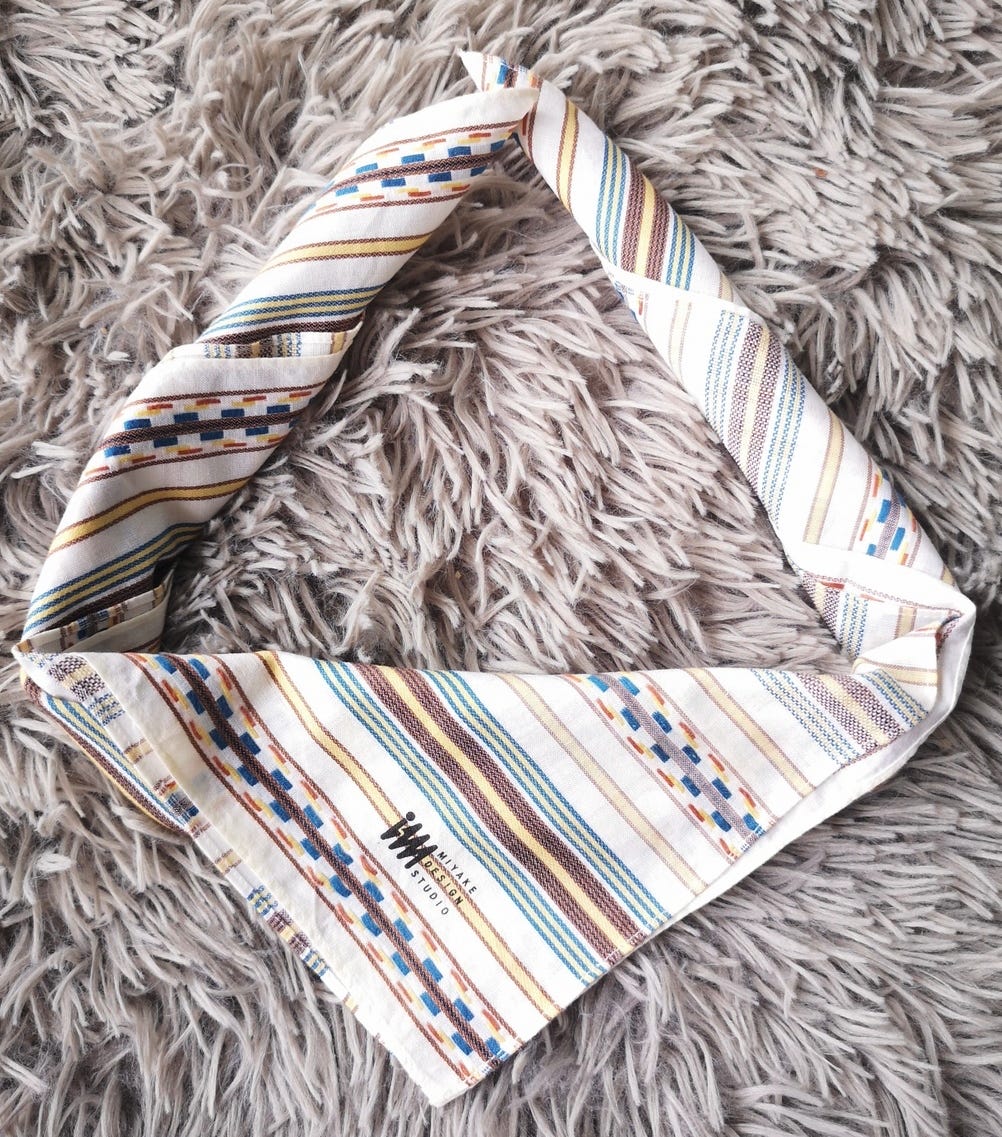 We'll do a separate vintage-bandana roundup before too long -- until then enjoy this breath of fresh pre-covid air from the god Issey Miyake, asking $46 here. 

Enjoy the weekend if time still holds any meaning to you, keep the Criterion Channel blazing when yr inside, and stay safe.