H.T.G. Facemask Roundup Pt. 2
This is HARD TO GET, a newsletter about awesome stuff that's (almost) impossible to find.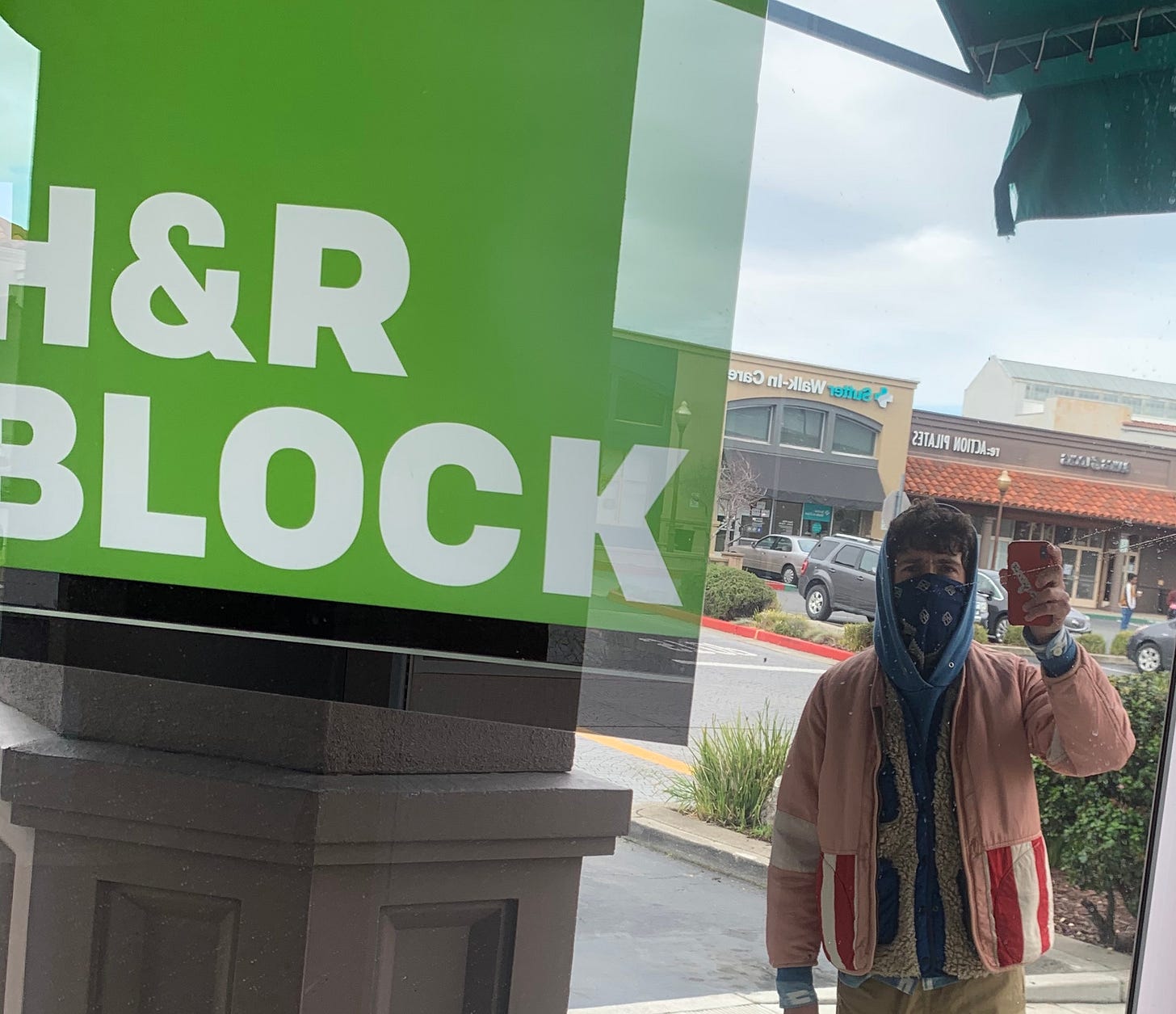 A couple personal facts about HARD TO GET worth knowing:
 
1) When we leave home these days we stay wrapping the rarest fibers around our face, and  

2) Whether we're blazing the Criterion Channel on the damn couch; caressing smooth manzanita bark in a forest; or seeing what the fuck is good at the neighborhood H&R BLOCK while wearing a high-pile Kapital fleece vest, please understand that we KEEP THE GORP ON US AT ALL TIMES!!

Today's newsletter -- a roundup of rare GORPED-OUT bandanas -- combines both helixes of H.T.G. DNA.  
We put some cool North Face Purple Label finds in our recent Japanese Bandana Roundup, but this is something else entirely: a vintage North Face joint with an optical-illusion-style topographical map depicting Alaska's Mt. McKinley, a.k.a. Denali, a.k.a. the namesake of North Face's iconic '90s fleece jacket.  
Sun-faded color scheme, 1980s-ed out, slightly misshapen lettering in the logo... incredible. This one's asking $53 shipped, here.  
Two more vintage rarities, from Arc'teryx and Columbia, in screaming color combos. The Arc'teryx one we found for $70 shipped here and $65 shipped here -- priced a bit high in both cases, maybe because when it comes to the 'teryx ppl get mesmerized watching organiclab stories and lose perspective. 

The Columbia one, meanwhile, is only $5 (!) plus shipping, here. 
Right now it's super tight to do things like mutual aid in yr community; organize rent strikes; respect vulnerable workers' picket lines; and, say, protest outside yr mayor's residence until he / she houses yr city's unhoused population. 

If u decide it's time for some "self-care," though, you might opt to swaddle yr grill in this haute-GORP woodland-scene $218 vintage Gucci joint.  
Osaka's Montbell is so routinely fire that even though these bandanas aren't in short supply we're including them here. 

A bandana themed around carabiniers and knotted ropes *could* turn crazy corny in lesser hands, but Montbell goes with a pattern-jumbling pop-art approach ... and crushes it. The cave-art motif on the right could feel similarly on-the-nose, but it works. Bunch of colors available for both of these, just $9 each, all here. 
Closing things out is this fantastic "OUTDOOR ESSENTIALS" bandana, dated 1990. It's a hand-drawn trail manual, featuring poison-sumac illustrations and cartoon animals warning against various forms of ruinous human encroachment -- kind of like a wearable nature-needs-to-heal / we-are-the-virus meme:  $25, here. (Update 9:13 am PST: a reader DMs to inform us that they copped this — WE TOLD U TO NOT SLEEP ON HTG!!)